The Diamondback Series is M&R's line of versatile and highly-affordable entry-level presses. Diamondbacks are available with up to 9 printheads and in 8 and 10-station configurations. Maximum image areas range from 35 x 28 cm (14" x 11") to 51 x 53 cm (20" x 21"). Diamondback presses feature servo-driven indexing to ensure smooth, accurate travel, and pneumatic screen clamps that facilitate rapid screen loading, hold roller frames without special adapters, and deliver excellent stability on a wide variety of screens. Each press has pneumatically-driven printheads; pneumatic squeegee/floodbar clamps with tool-free angle adjustment; pneumatic screen frame clamps; and pneumatic squeegee pressure regulators with pressure gauges on each printhead for exceptional control of print pressure. Diamondback squeegee/floodbar systems offer independently-set angle and calibrated pressure adjustments; front or rear print carriage stop position that allows operator to leave screens clear or flooded; independent squeegee & floodbar speed adjustments; and visual reference marks every 5 degrees to simplify squeegee/floodbar angle adjustments. Adjustable rear stroke length with tool-free adjustment maximizes print speed. The squeegee/floodbar park feature facilitates setup and tear-down by simultaneously retracting the squeegee and floodbar and then moving them to the outside edge of the press for easy access.
DIAMONDBACK L
Diamondback L is a 6-color automatic screen printing press with a maximum image area of 35 x 28 cm (14" x 11") and fixed screen holders that accept 51 x 61 (20" x 24") screen frames. Truly unique, it's perfect for manual shops with limited space looking to break into automatic printing. At the same time, its high-speed servo and 259 cm (8′ 6″) diameter makes it ideal for larger shops interested in a press that requires little space—yet turns out tagless labels, pocket prints, and smaller-format images of exceptional quality. Diamondback L's heavy-duty casters make it easy to move around the shop—or out of the way when it's not in use.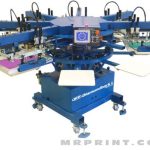 DIAMONDBACK C
Diamondback C automatic screen printing press is similar to Diamondback L in size and affordability. It has a slightly larger diameter of 284 cm (9′ 4″), but a correspondingly larger maximum image area of 38 x 41 cm (15″ x 16″). Diamondback C is available in 6 or 7 colors, and it's perfect for those who need to print larger images, but only have room for a very compact press.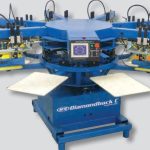 DIAMONDBACK S
Diamondback S automatic screen printing press was the first press to bring servo drive to the entry-level user. It's available in 6, 7, 8 or 9 colors. It has a maximum image area of 41 x 46 cm (16″ x 18″), and can accept screen frames up to 58 x 84 x 4.5 cm (23″ x 33″ x 1.75″). For those waiting for the right price on an entry-level automatic, the wait is over.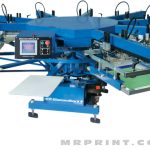 DIAMONDBACK XL
Diamondback XL automatic screen printing press combines servo drive, large image area, and affordability. Diamondback XL is available in 8 and 9 colors. It has a maximum image area of 51 x 53 cm (20″ x 21″), and can accept screen frames up to 66 x 91 x 4.5 cm (26″ x 36″ x 1.75″). It's the ideal press for large images at a low cost.